Keywords Analytics layout is quite simple with less filters than Merch Research. To conduct a keyword search, you should follow these instructions.
Step 1: Enter the keywords you want to look up in the search box (section 2 in the illustration).
Step 2: Select the search display filter at section 1 including: has all words, at lease one, occur in same order, and match phrase.
Step 3: Select the time range for your results and wait a few seconds for MerchIntel system to search. The results keyword will show in section 4, the number of which this keyword appears on products description in section 5, and keyword trend (chart and rate) in section 6.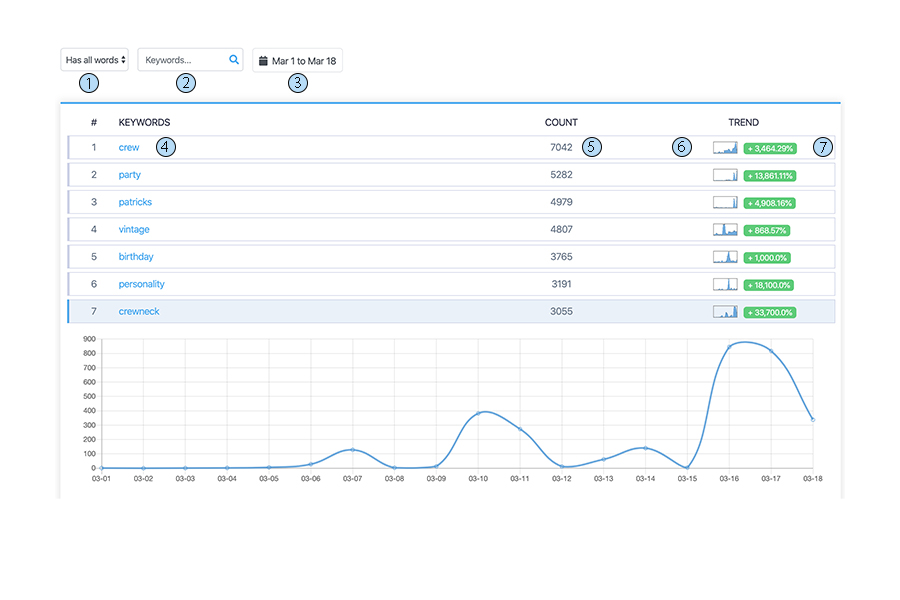 Here is a specific example.
The keyword "Monday mood" is searched with the filter "at least one" and time range from Jan 1 to Feb 28. MerchIntel returns two pages of search results for related keywords (12 results). Next to each result is the corresponding count, trend chart, and index. By clicking on one specific keyword, MerchIntel will automatically conduct Merch Research for the keyword and displays designs related to the selected keyword. You can add more filters for selective results. You may refer to section 2 – Merch Research to learn more about this feature.
You have done the research but how can you effectively use them? We suggest that the easiest way is to use hot trendy keywords, even if they are not relevant to your designs in cases. The thing might not sound right but it's no doubt an effective sales strategy. The keyword will top the chart as the number of search increases, which means, by using these keywords, you are more likely to approach customers. However, you don't need to play by the rule if you don't want to. You can have your own tactic with keywords as long as it works. After all, who knows, it might even be even better.